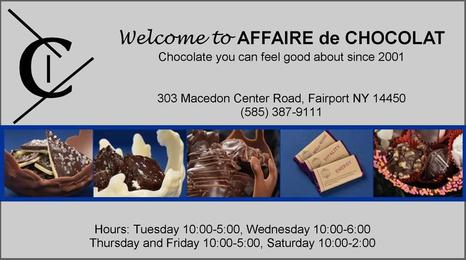 Welcome !
Please review our chocolates and Truffles from
our product list. All chocolates are subject to availability.
Some Chocolates may require advance ordering.
The Store is located at:
303 Macedon Center Road, Fairport NY 14450
Across from the VFW in Fairport, Rt 31 F.
Have Fun Shopping!
​ You may call, email or Text your order.
GOURMET TRUFFLES AND CHOCOLATES


​Enjoy an assortment of Hand Made Truffles and Chocolates in every beautiful box. Perfect for gift giving or treating yourself. Made in Fairport NY. Box sizes available: 16 piece box, 9 piece box, 4 piece box, and our 2 piece Favor box. Made with fresh cream, nuts, fruits and liquors. Stop by the store to choose how your box is filled.

Caramel Bijou is one of our specialty chocolates. It is a Hand made chocolate that is crunchy on the bottom, has a pocket of soft Caramel, covered in Dark chocolate and sprinkled with French sea salt.

Splat is a deconstructed 'Turtle'. We start with our signature blended chocolate, add fresh Pecans.Then a heavy portion of soft caramel is poured over the chocolate and pecans. Another layer of creamy blended chocolate is added to complete this
​ amazing Splat.

Baiser Francaise:
One of our specialty chocolates. Layers of delight, Dark chocolate, Caramel, and Peanut butter chocolate.
Melts in your mouth.

Dark Chocolate Sponge Candy: Crunchy Sponge Candy dipped in Dark Chocolate. This chocolate is subject to availability. Weather affects this chocolate.

Milk Chocolate Sponge Candy: Crunchy Sponge Candy dipped in Milk Chocolate. This chocolate is subject to availability. Weather affects this chocolate.

Frenchie : Our Dark Chocolate Scotch Truffle

Tequila Truffle: Our Milk Chocolate Tequila Truffle topped with a hint of salt.

This is the Chocolate bar we call Vitality. Dark chocolate with a spice blend to include: Rosemary and Turmeric.This bar contains spices
​ believed to encourage Healthful Living.

This is the Chocolate bar we call Energy. There isn't any additional caffeine in this bar.Energy because your body operates better.Dark chocolate with a spice blend to include: Cardamon and Coriander.This bar
contains spices believed
to encourage
​ Healthful Living.

This is the Chocolate bar we call Well-Being.Dark chocolate with a spice blend to include: Foenugreek and Cinnamon.This bar contains spices
​ believed to encourage Healthful Living.

Blended Chocolate

S'Mores: ​Blended Chocolate, Graham crackers and marshmallow

Salt'N Pepper Bark:
A layer of White Chocolate, a layer of Dark Chocolate with salt
​ and pepper.

Peppermint Bark:​ Our Peppermint Bark has a Dark Chocolate layer with Peppermint Chocolate
​on Top, filled with Peppermint Pieces.

French Crunch:
​ Our signature Blended Chocolate with a multi grain crunch.

DARK CHOCOLATE

MILK CHOCOLATE

WHITE CHOCOLATE