EVENTS
Check out our Events. Both in store and out.
Home of: Affaire de Chocolat
Roc City Chocolates
Bubba BowWow Dog Boutique
Open House at Affaire de Chocolat
Saturday November 4th, 2017
10:00-3:00pm
Stop by for a sample of chocolate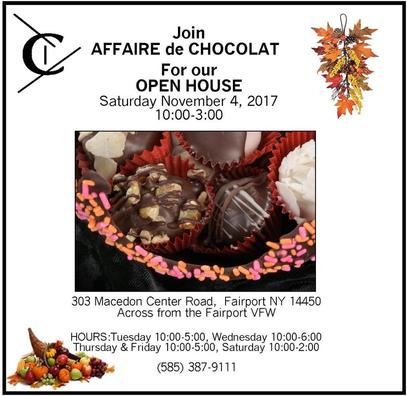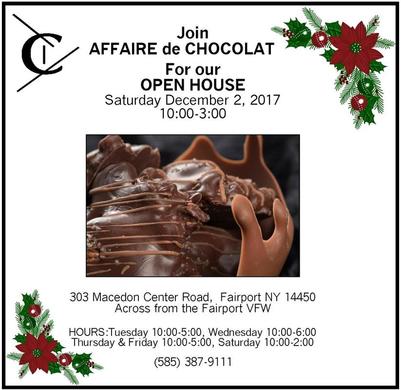 Holiday Bazaar at RMS ,
​ November 17-19th 2017
Join both Affaire de Chocolat and Bubba Bowwow at RMS:
Friday November 17 from 5:00-9:00
Saturday November 18 from 9:30-5:00
Sunday November 19 from 11:00-4:00
HOURS THANKSGIVING WEEK
(Additional hours are available with prior notice.)
Tuesday November 21, 2017 Open 10:00-6:00
Wednesday November 22, 2017 Open 10:00-6:00
Thanksgiving, November 23, 2017 closed
Friday November 24, 2017 closed
Saturday November 25, 2017 Open 10:00-3:00
Locust Hill Street of Shops, Wednesday November 29, 2017.
​
Affaire de Chocolat will be closing early to participate in the Event.
DECEMBER 2, 2017 HOLIDAY OPEN HOUSE
Join Affaire de Chocolat for our annual Holiday open house. This is a family
friendly event at our Fairport store
from 10:00-3:00pm.
Enjoy select chocolate sampling and a Holiday beverage.
This is the perfect time to pick up or
pre order your Holiday Gifts.
Chocolates make a wonderful gift,and Bubba Bowwow Boutique
has you fur baby covered too.
Call or Text (585) 387-9111
​