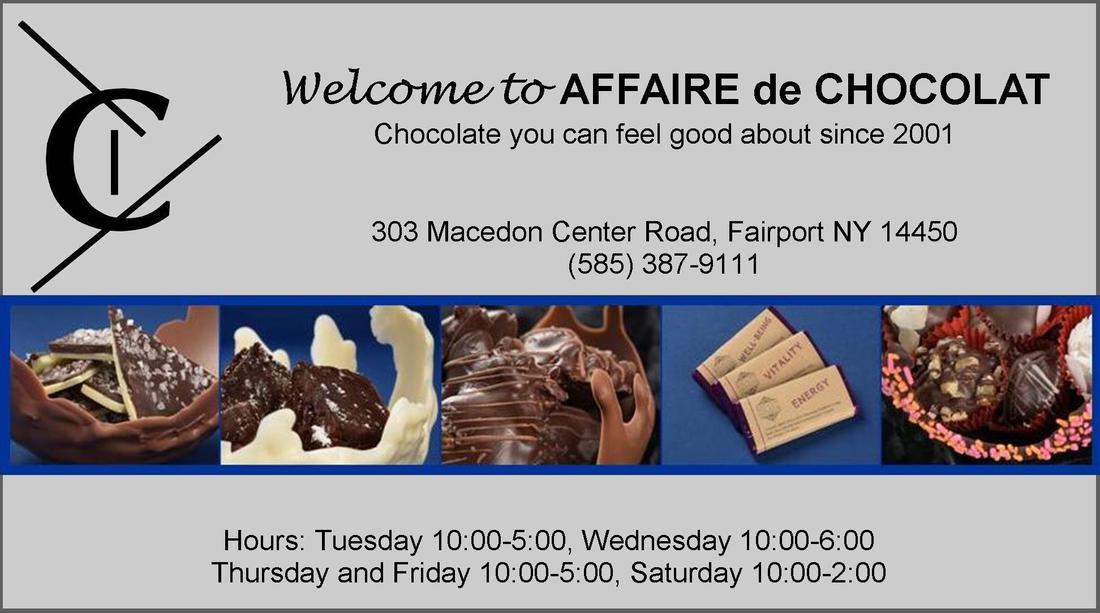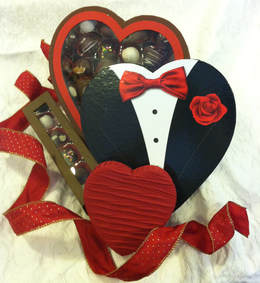 Valentine's Day is Just around the corner. We've got you covered!.
​We have a variety of box sizes and shapes to fill with your favorite chocolates.
Affaire de Chocolat proudly manufactures and sells:
Affaire de Chocolat- Truffles and Chocolate
RocCity Chocolates- Chocolate Barks and Bars
goBe Bar- a Better choice chocolate Bar.
Bubba BowWow - Pet attire , Accessories
​ and Pet Formal wear.
Come on....
Indulge!


Thank you for visiting our Website.
Affaire de Chocolat is located at:
303 Macedon Center Road,
​
Fairport
NY 14450
​ (585) 387-9111
We are across from the VFW, in Fairport ( Rt.31F) next to JB Sterling.
We are open year round.
Affaire de Chocolat is locally owned.
Our Fine Hand Made Truffles and Chocolates
are created right in our Fairport Store. We
start with a pure Chocolate base and incorporate fresh nuts, dried fruits, cream, butter and​ other fine ingredients.
​
We take pride in our Hand Crafted Chocolates. Our Gourmet Truffles, Chocolate Bark, and Caramels are made fresh, in small batches.
We offer a variety of Nuts and Dried Fruits
in our Chocolate Barks.
We also carry many wheat free items.
Milk free chocolate and nut free
Chocolate is available.

Flour and Corn starch is not used to dust our
Chocolate Molds and Trays.
​
We can customize most of our Chocolates to fit
your Special Occasion,
Event or Business function.
Chocolate Trays are available and start at $4.00pp.
Trays include a selection of our chocolates,
unless otherwise indicated or ordered.
A deposit is required and advanced ordering may be needed.
We have been proudly making fine hand made
Chocolates and Truffles for new and
loyal customers in Fairport NY,
Penfield NY, Pittsford NY, Rochester NY and Surrounding areas since 2001.

Stop by and taste
what people
are talking about.
Now you can Call or Text
​your orders (585) 387-9111
Affaire de Chocolat was established in 2001 in Perinton NY. Additional Brand: Roc City Chocolates was created in 2015, goBe bars were created in 20017.
In the beginning , only Truffles were available. Now, including some seasonal items, I make over 72 kinds/flavors of Chocolates. Roc City Chocolates has a line of specialty Dark Chocolate Bars, along with chocolate barks and such.
​ Stop by soon and try our chocolates.
You will be glad you did.
​
---